Leo Downey lives in The Canadian Rockies raising a herd of buffalo and welcoming guests from all over the world. He left a rock band, playboy bunnies, celebrities and the world to walk a vision on Earth and become a Soultracker.
Leo's debut book Soultracker follows Leo on his journey as an artist beginning with the miracles or 'visions' he first began experiencing alone in the wilderness as a teenager.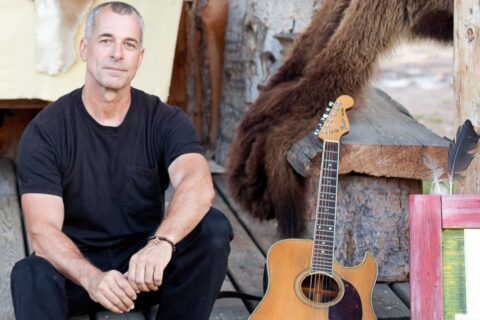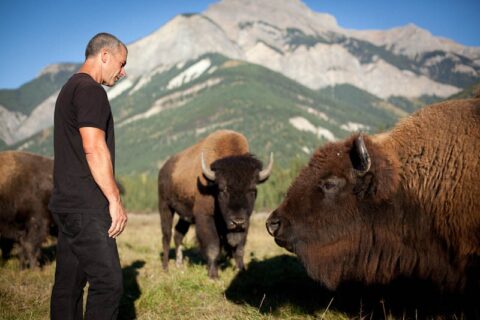 It's about buffalo, condors, rattlesnakes, bears and mountain lions and what happened when I lived like them. It's about Angels, Saints, a Monastery, and a spider in the Center of her web.
It's about love between a man and a woman and truth nobody owns. It's about who's addicted when you're addicted and who's free when you're free, and how you will be.
It's about being an Artist. It's about bunny's, stars and my rock band, about three bloody Hells Angels at the door, jail and fights and making you laugh. It's about Heaven and Earth and survivalthrival skills of our body, blood, heart, soul and divinity, really not symbolically, and a prophecy of a future that's here.
It's about a Mystical Body and about angels with none, and a Woman who's Father was her Son.
"Downey is a BRILLIANT guitarist, with a superb instrumental acoustic guitar album and an equally FASCINATING rock record. Downey is a MAJOR TALENT who bears repeated listening, no matter what, Downey is a MUST SEE!"
Los Angeles Reader
"His music is STUNNING, TIMELESS, HEARTFELT. Most of all I was taken by his VOICE, HONEST and FULL of LIFE, with bits of reckless abandon, as if he's singing/talking to a good friend."
Bobby Vee – 38 Top 100 hits, 7 Gold Records
"The man is ALIVE AND WANTED! Leo Downey is talented….HE ROCKS!…and he's got a voice as big as all outdoors!"
Bill Locey – Los Angeles Times
"It was MADNESS! Sheer and beautiful MADNESS! Downey gave an excitable gathering of industry moguls and labels bigwigs a full-service dosage of his ARENA WORTHY rock and roll!"
 Santa Barbara Independent
Gloriously Wild Working Buffalo Ranch, Leo Downey is passionate about his animals!
LONLEYPLANET