Rocky Mountain Buffalo Ranch is a working ranch where our herd of buffalo (North American Bison) roam the pastures, sharing the land with elk, wolf & deer among other wild animals that pass through the ranch.
On the Ranch you will find meadows, wetlands, and forest with 360 degree mountain views. Guests enjoy buffalo roaming, year round creeks and ponds with native fish, and pristine frontage along the Blaeberry River which is fed by the Mummery Glacier. We are surrounded by amazing vistas of the Canadian Rockies and the Purcell Mountains. Wildlife, such as elk, moose, wolves, bears, fox, mountain goats, osprey, bald eagles, and many other species of birds and native fish pass through this land. It is truly a spectacular place!
Buffalo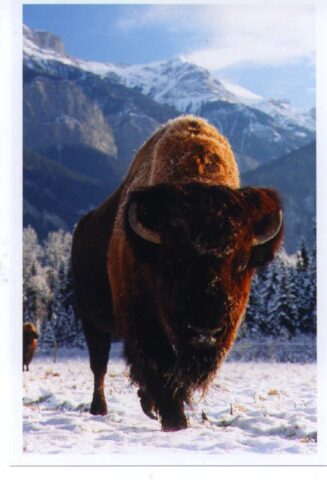 You are warmly welcome on a buffalo tour. I do every morning at 10:15  (Golden is on Alberta time) You'll find Rocky Mountain Buffalo Ranch on google maps. You don't need a reservation although it's good to drop me an e-mail if you plan on making a special trip on a certain date, as on rare occasion I have to close for a day. The tour takes about an hour and is $25 per person and free for little kids under 5. It's also #1 of 72 Things to Do in Golden on Trip Advisor!! 🙂 The Tour lasts about 75 minutes. As a guest you get an up close and personal experience with these amazing creatures. Calving season is in late spring, just about the time dandelion flowers are covering the pastures. It's not unusual to catch a birth in process at this time of year, and it's quite a joy to see those little buffalo running around when they figure out they have powerful little legs.
If you visit during winter you'll see an animal built for Canadian winters! With woolly winter coats, icicles hanging off their faces, and steamy breath, it's a whole different picture from summer. You'll find it a testament to the hardiness of this ancient creature.
The buffalo became a species on the verge of extinction. When European settlers arrived in North America, somewhere between 60 and 125 million bison lived here. In 1889 approximately 1,000 bison remained. Conservation efforts have enabled the buffalo population to rebound to about 700,000 in National Parks and private herds. Buffalo ranches have contributed to a 35% yearly growth in population.
Leo does one buffalo tour every day May 15 thru September 31 at 10:15 a.m. ( Alberta time)  it includes the native fire making demonstration and is $15 for adults. Little kids are free and you are warmly welcome.